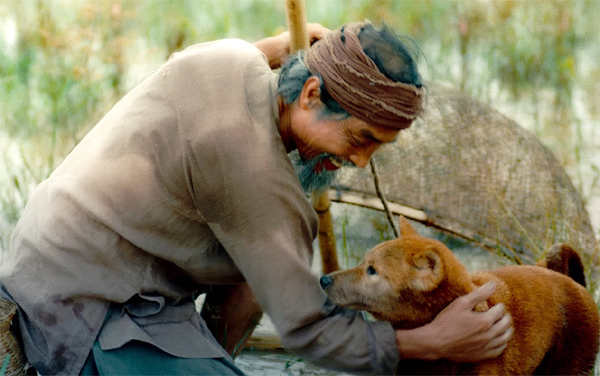 Vietnamese literary film adaptations fail
The tragic level of box office receipts of most films adapted from books is examined by film critic Nguyen Phong Viet.
Low gross income doesn't necessarily reflect a movie's true value. However, around 90% of low-end movies obviously only attract a limited audience. Many recent low-box-office films involved screenplays adapted, borrowed or inspired by renowned Vietnamese literary works. The films Cau Vang, Kieu… are examples.
'Cau Vang' based on famous works by writer Nam Cao failed in both sales and quality.
Adapted films undoubtedly require a demanding production and are always placed in comparison with films of the same genre and the same subject, not to mention successful works which have already been read by the public.
While literature is subjective, a film is made entirely from the director's point of view. To bridge this gap, excellent screenwriters are needed who are able to reconcile their individual creativity with the advanced visualizations of the audience, creating the required harmony in terms of the visuals of the films.
The movie "Kieu" in theaters has received mixed reviews.
Most of the Vietnamese literary works selected for cinema are old. It is this distance that leads to discrepancies in context, props, costumes and even character creation.
Without any standard documents, the production of films is done on the basis of unorthodox documents, personal studies and trust in people with historical knowledge.
Therefore, the controversy never ceases between the audiences who watch films with their distinctive feelings and the directors and producers who make their films through their own perspectives.
Film studios with the skill of replicating a desired space are the key to flawless films with historic elements and old sets which, unfortunately, are still a far-fetched dream in Vietnam, as reconstructing a scene from an existing scene is always a high expenditure of money, time and energy of the crew.
A scene from the movie 'Mat Biec' (Dreamy Eyes).
Only until the films Fan Cuong (Fanatic), Co ba Saigon (The Tailor), Song Lang or Toi thay hoa vang tren co xanh (I see yellow flowers on the green grass), Mat biec (The eyes dreamers) had a corner of old Saigon rebuilt and a market scene and provincial roads. While if there is a spacious studio with the basic design basics available, things are much easier for the team who can then focus on the gameplay and the storylines instead of every little detail of the scenes.
Acting is the remaining core of a gripping film adapted from a literary work. A film with the sets of yesteryear will always be demanding for the actors in terms of expressions and physical movements.
Even how to hold a glass of water, wear a shirt, take a step … involves a particular culture, behavior, status … of characters in the past, which has not been fully reflected by most. Vietnamese films. Engaging storytelling with the keen mindset of directors and editors also contributes significantly to a film's success … Alas, taking up the challenge is far from acknowledging it.
Video: "Cau Vang" Trailer
Nguyen Phong Viet
The local film industry at stake this Tet
Lunar New Year (Tet) has always been a great occasion for film distributors, but it will likely be different in 2021.
Vietnamese films make big profits after being postponed amid recent COVID-19 outbreak
Two Vietnamese films grossed several billion dong in a single day in theaters last week, after a release date postponed to February amid a COVID-19 outbreak.
Vietnamese cinema needs new scripts that "access people's emotions"
Only films that reflect people's aspirations and the reality of life and reach audiences can lift the film industry out of the current deadlock and crisis.