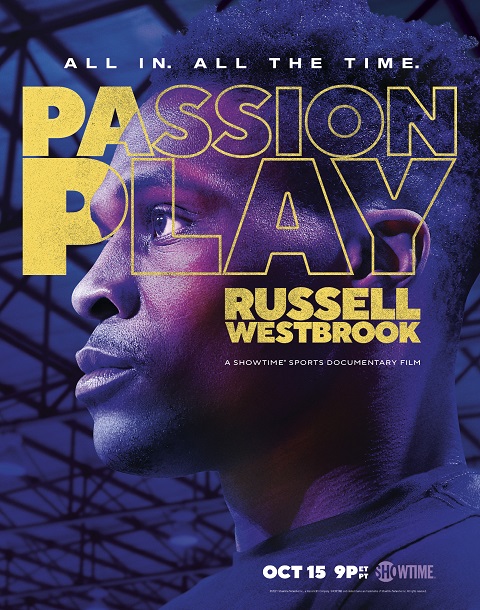 Video: Showtime Sports Documentary Films Releases Official Trailer and Poster for "Passion Play: Russell Westbrook"
SHOWTIME (R) SPORTS OFFICIAL TRAILER AND POSTER RELEASE FOR "PASSION PLAY: RUSSELL WESTBROOK"
Film premieres Friday, Oct. 15 at 9 p.m. ET / PT on SHOWTIME
NEW YORK – September 29, 2021 – SHOWTIME Sports Documentary Films has released the official trailer and poster for the upcoming documentary PASSION PLAY: RUSSELL WESTBROOK, an intensely personal examination of one of professional sports' most dynamic and complex figures. The documentary will premiere Friday, October 15 at 9 p.m. ET / PT on SHOWTIME and will be available on on-demand and network streaming platforms during the premiere. To watch and share the trailer, visit:
https://www.youtube.com/watch?v=8jvnNQThlM8
Executive produced by Westbrook and Donnell Beverly, PASSION PLAY features rare footage and extensive interviews with Westbrook, his family, former teammates Kevin Love and Nick Collison, and more. The documentary follows Westbrook's journey from being an honor roll student and high school player to a singular force that defies his critics. PASSION PLAY reveals a caring and loyal family man who shares the entirety of his deeply rooted personal life, allowing viewers to redefine who they think he is.
PASSION PLAY: RUSSELL WESTBROOK, which extends Showtime Networks' successful partnership with Religion of Sports, is co-directed by Religion of Sports co-founder and Emmy (R) filmmaker Gotham Chopra (Kobe Bryant Muse, Tom vs. . Time, Shut Up and Dribble) and Emmy Award winner Erik LeDrew, Creative Director of Religion of Sports. Meg Cirillo, Emmy Award winner, of Religion of Sports, was a producer and Rob Ford of Religion of Sports was co-producer with Raynard Westbrook. The film is produced by Religion of Sports and SHOWTIME Sports (R). Showtime Networks Inc. (SNI), a wholly owned subsidiary of ViacomCBS Inc., owns and operates the premium service SHOWTIME (R), which features critically acclaimed original series, provocative documentaries, blockbuster movies at box office, comedy and music specials and hard-do sports. SHOWTIME is available as a standalone streaming service on all major streaming devices and Showtime.com, as well as through cable, DBS, telco and video streaming providers. SNI also operates the premium services THE MOVIE CHANNEL (TM) and FLIX (R), as well as the on-demand versions of the three brands. SNI markets and distributes sports and entertainment events for exposure to subscribers on a pay-per-view basis through SHOWTIME PPV (R). For more information, visit www.SHO.com.