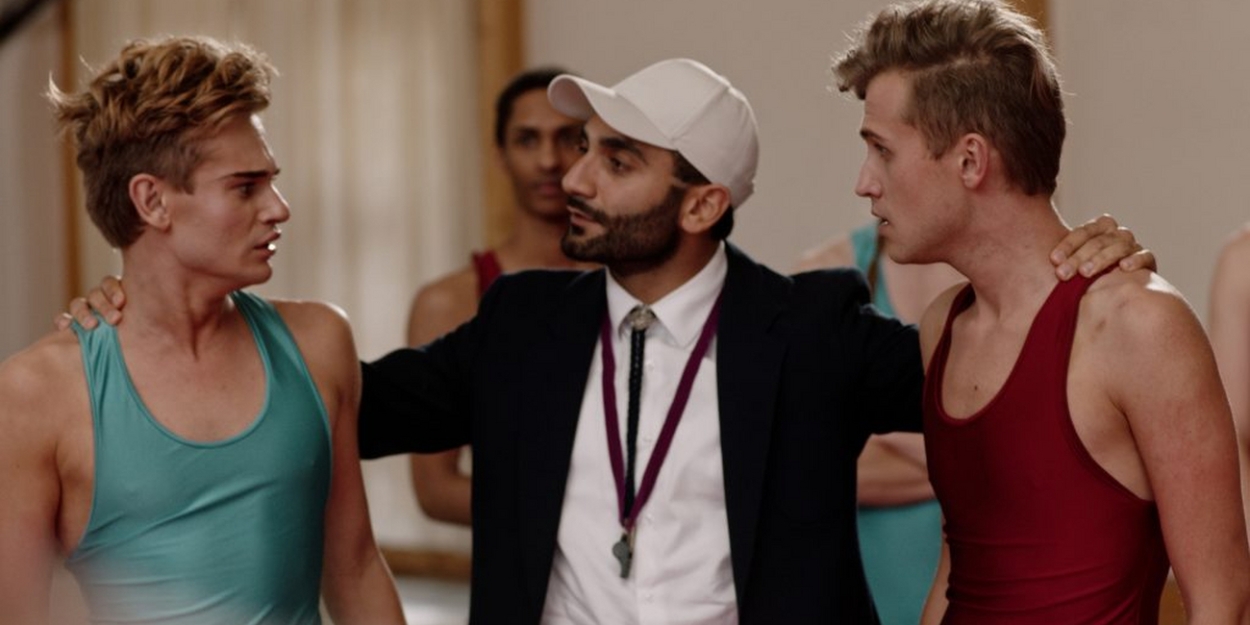 Two New Feature Films and a Two-Week Short Film Festival Announced for PrideArts' Summer Streaming Film Schedule
The feature-length documentary LOOK ME OVER: LIBERACE will open PrideArts' summer movie streaming schedule, with a week running from June 1-8. The profile of Jeremy JP Fekete of the famous flamboyant pianist will only be available for eight days. It will be followed from June 8-15 by the 2022 release of SCHOOLMASTER GAMES – a Swedish film about a school for boys where homosexuality is the norm.
In July, a two-week festival of 13 short films from the United States, Canada, the Republic of South Africa, Ireland and Tunisia will run from July 5-19. The short films – dealing with matters of the heart ranging from romantic relationships to parenting relationships as well as political and social considerations facing gay people around the world – will be presented in two separate approximately eighty-week-long programs. ten minutes per program, each program being broadcast continuously. for a week.
Access to each PrideArts Fall Film Festival shorts program will cost $10.00, which will allow the purchased program or feature to be viewed for a full week, allowing audiences greater flexibility to view the films at their way. Tickets and more information are available at https://www.goelevent.com/pridearts/e/Search.
A complete list of each program appears below. A selection of production stills from the films is available for download at https://cop.kr/s/aHBqjzP9cm.
LOOK AT ME: LIBERACE (USA, 1h30)
Written and Directed by Jeremy J. P. Fekete
Broadcast from June 1 to June 8
$10.00, allows unlimited viewing for release week
More info and tickets at https://www.goelevent.com/pridearts/e/Search.
He was an icon, a flamboyant, egocentric pianist, a showman par excellence: Liberace – the King of Bling – had an unparalleled career. The parlor pianist turned megastar lived the American Dream, but it was a life of unparalleled paradox and eccentricity.
SCHOOL TEACHERS GAMES (Sweden, 1:22)
Directed by Ilva Forner
Broadcast from June 8 to 15
$10.00, allows unlimited viewing for release week
More info and tickets at https://www.goelevent.com/pridearts/e/Search.
The Saint-Sébastien Academy, an all-male school where homosexuality is the norm, is the setting for this most unusual new film. Two teachers who were bullied in their youth hope to provide these students with a greatly improved school experience.
PRIDEARTS SUMMER INTERNATIONAL SHORT FILM FESTIVAL
Broadcast from July 5 to 19, 2022
Two weekly programs of queer international short films
$10.00 per weekly program. Admission allows unlimited viewing of the weekly program until the end of the release week.
More info and tickets at https://www.goelevent.com/pridearts/e/Search.
A film festival of 13 short films from five countries that will be released online in two separate programs, each available online for one week.
SUMMER SHORT PROGRAM WEEK 1 (1:36:00) – July 5-12, 2022
Five short films from the United States, Canada, South Africa and Tunisia.
WEEK 2 SPRING SHORTS PROGRAM (1:36:00) – July 12-19, 2022
Eight short films from the United States, Canada and Ireland.
COMPLETE PROGRAM
Summer Shorts Week 1 – Airing July 5-12, 2022.
A BLOOM (Republic of South Africa, 24:00). Directed by Antony Rangel Coll.
Nick has just returned home after spending three months in a therapy center. He is determined to leave behind all the pain inflicted by his former love. After hanging out with his two friends at a local bar, Nick sees love again across the room, smiling shyly at her. The strange visit from the past and the gentle gaze of a stranger will finally make him sink to the bottom of his heart and be reborn.
HOLD THE LINE (US, 36:47). Directed by SB Gamble.
A couple find themselves in the throes of a pandemic and social unrest in May 2020.
NIDHAL (Tunisia, 10:30 a.m.). Directed by Bassem Ben Brahim
Between reality and animation, the story of Nidhal is told, a young homosexual Tunisian who defended individual freedoms in Tunisia through his work on the radio. He found himself under great pressure which forced him to leave the country and seek asylum in the Netherlands.
PRAY THE GAY AWAY (US, 11:27). Directed by Chang-Min Jonathan Hyon.
Danny, a queer Korean high school student, becomes invisible after an intense prayer group literally begs the gay to leave. Will he ever be seen again?
BLOCKED (Canada, 1 p.m.). Directed by Emile Viens.
After her space capsule crashes, an alien calls for help telepathically, causing her deceased boyfriend to hallucinate in a grieving man.
Summer Shorts Week 2 – Airing July 12-19, 2022.
DON'T TEXT YOUR EX (Canada, 13:52). Directed by Jo Güstin.
Survive a global pandemic by being queer, cute, and still in love with your ex.
SASHA & MAR (US, 9:16 a.m.). Directed by Anya Dombrovskaya.
Tensions arise between two young women after a night one of them can't quite remember.
LOOSE THREADS AND THE SILLY LITTLE EXORCISM (USA, 4:10). Directed by Jacqueline Hillebrecht.
In a world where kindred spirits are linked by the mystical red thread of fate, a young trans woman named Emma will do anything to win the heart of Katie – her best friend.
PETITS LOURDS (Canada, 5:30 p.m.). Directed by Brendan Prost.
A bizarre bifurcated character drama about a bizarre encounter between two lonely cat lovers and a macabre test of his social obscurity.
PUNCH LINE (Ireland, 10:14). Directed by Becky Cheatle.
On the eve of a transphobic attack, a transgender actress processes her feelings the only way she knows how: through stand-up comedy.
THE SUN COMES UP (US, 8:00 p.m.). Directed by Rachel S. Schultz.
After his mother's sudden death in the middle of his senior year of college, Jordan struggles to come to terms with the complicated relationship they had while trying to complete his honors thesis and pursue a new love.
WEREWOLF (4:37)
Directed by Angelo Duncan and Mason Rose
A darkwave/goth transgender artist, AS Valentino's debut music video "Werewolf" shot by Portland's Mason Rose and featuring an all-queer, trans cast explores the connection between trans people and monsters in the public imagination – as than objects of fear and fascination. The video parallels Valentino's own transition to shape-shifting werewolves, gaining new hair, muscle, and strength.
A PARTY THAT NEVER COMES (16:22)
Directed by Maria Juranic
Four characters inhabit cycles within cycles of contentment, discontent, inertia, movement, desire and betrayal. A story emerges – told through the marriage of music (Ex-Fiancée) and dance (ChrisMastersDance) – working like a set of nesting dolls, inviting you to discover as many layers as you wish.
ABOUT PRIDEARTS
PrideArts tells queer stories across a variety of platforms, including live and virtual performances. Since its founding in 2010, PrideArts has had several chapters, including as a traveling theater for its first six seasons, and as developer and anchor tenant of the Pride Arts Center from 2016-21.
The company produces a full season of plays and musicals, as well as events such as cabarets, films, and more. PrideArts has garnered 39 Jeff Awards and nominations, and six nominations for the most recent ALTA Awards (2019) from the Alliance of Latinx Theater Artists of Chicago. Programming reflected the diversity of queer communities by including work by and illuminating the experiences of women, gay men, transgender people and BIPOC.
PrideArts is supported by the MacArthur Fund for Arts & Culture at The Richard Driehaus Foundation, The Illinois Arts Council, City of Chicago's City Arts Fund, the Elliott Fredland Charitable Trust, The Pauls Foundation, The Heath Fund, The Service Club of Chicago, the AmazonSmile Foundation, Arts and Business Foundation, Tap Root Foundation, Arts and Business Council and Alphawood Foundation. PrideArts is a member of the Chicago Community Trust's Smart Growth Program. PrideArts is a member of the Illinois LGBT Chamber of Commerce, Northalsted Business Association, Lakeview East, Uptown United, and the League of Chicago Theaters. For more information and to donate, visit www.pridearts.org or call 1.773 857 0222.