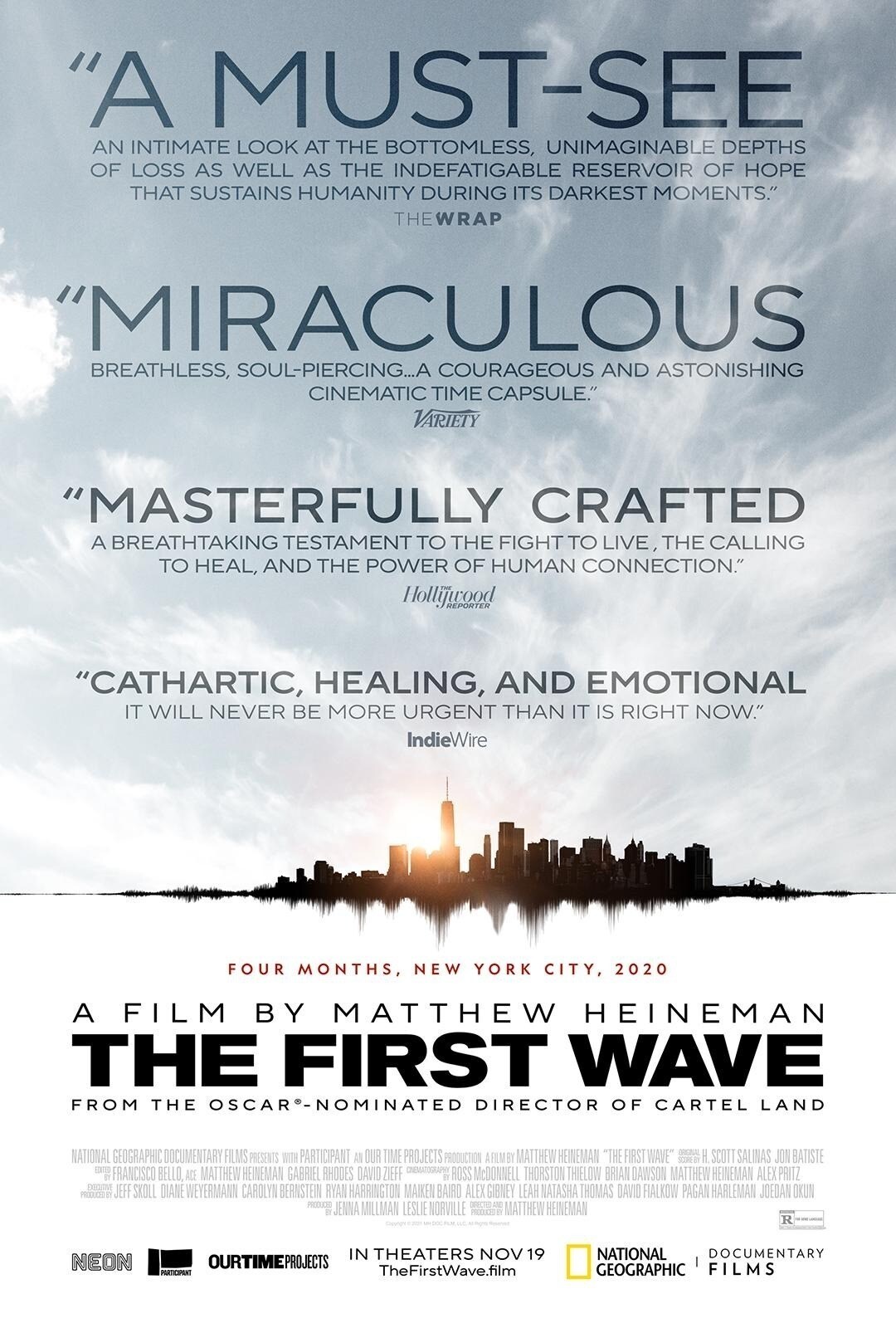 The first wave | National Geographic Documentary Films
Matthew Heineman is an Oscar®-nominated and Emmy Award-winning filmmaker. The Sundance Film Festival called Heineman "one of the most talented and exciting documentary filmmakers working today", while Anne Thompson of Indiewire wrote that Heineman is a "respected filmmaker and gifted who combines gonzo fearlessness with empathetic sensibility".
Coming soon, he directed, produced, shot and edited THE FIRST WAVE, a feature-length documentary with exclusive access inside one of New York's hardest-hit hospital systems during the harrowing first four months of the COVID-19 pandemic. Using Heineman's signature character-driven approach to cinema verité, he and his team become embedded with a group of doctors, nurses and patients on the front lines as they face one of the greatest threats the world has ever faced. With each of their distinct storylines serving as a microcosm through which we can view the emotional and societal impacts of the pandemic, THE FIRST WAVE is ultimately a testament to the strength of the human spirit. Neon will release the film in theaters later this year before it premieres on National Geographic in 172 countries.
More recently, Heineman directed Amazon's THE BOY FROM MEDELLÍN, a surprisingly intimate portrait of one of the biggest international music superstars of our time. The documentary follows J Balvin as he prepares for the most important concert of his career – a sold-out show in his hometown of Medellín, Colombia. But as the performance draws closer, the streets are exploding with growing political unrest, forcing the Latin GRAMMY®-winning musician to wrestle with his responsibility as an artist to his country and his legions of fans around the world. Shot entirely during the dramatic week leading up to the concert, THE BOY FROM MEDELLÍN gives us unprecedented access to the "Prince of Reggaeton" and offers an immersive look at one of the most pivotal and emotionally charged moments in his life. Amazon released the documentary on May 7, 2021.
Additionally, Heineman recently co-directed the two-part documentary TIGER with Matthew Hamachek, which he also produced. The documentary, which was released by HBO in two parts in January 2021, offers a revealing look at the rise, fall and epic comeback of global icon Tiger Woods.
In 2019, he received a nomination for Outstanding Directorial Achievement of a First Feature from the Directors Guild of America for his narrative debut, A PRIVATE WAR, making Heineman and Martin Scorsese the only filmmakers ever nominated for the DGA Awards. narratives and documentaries. . A PRIVATE WAR stars Jamie Dornan, Tom Hollander, Stanley Tucci and Oscar nominee Rosamund Pike as legendary war reporter Marie Colvin. The film premiered at the 2018 Toronto International Film Festival before being released nationally by Aviron Pictures. It was a New York Times critics' pick, and Variety hailed the film as "Heineman's stunning narrative debut" and "an incredibly sophisticated and psychologically immersive film". A PRIVATE WAR also earned two Golden Globe® nominations for Best Actress and Best Original Song.
Heineman directed and executive produced THE TRADE, a Showtime documentary series that chronicles a different topic each season, from the opioid crisis to human trafficking, through the eyes of those most affected. It was described by The Hollywood Reporter as "a thriller…like TRAFFIC only current and real", while The New York Times said, "Heineman has shown an astonishing ability to access hard-to-reach people and places." Both seasons of the show premiered at the Sundance Film Festival and received overwhelming critical acclaim and awards, including Best Episodic Series at the 2018 International Documentary Association Awards for season one and two News & Documentary Emmys. Awards for season two, including Outstanding Directing for Heineman.
His documentary film CITY OF GHOSTS, which follows a group of citizen journalists exposing the horrors of ISIS, premiered at the 2017 Sundance Film Festival and was distributed worldwide by Amazon Studios before being released in premiered on A&E. Heineman won his second DGA Outstanding Achievement in Documentary Award for the film – one of only three directors to win the prestigious honor twice. CITY OF GHOSTS also won the International Documentary Association's Courage Under Fire award "in recognition of conspicuous bravery in the pursuit of truth" and was listed on over 20 critics and year-end lists for the Best Documentary of 2017. The film was also nominated for a BAFTA Award, PGA Award, IDA Award and Primetime Emmy for Outstanding Achievement in Documentary Filmmaking.
CARTEL LAND, which explores the vigilantes who take on Mexico's drug cartels, was nominated for an Academy Award for Best Documentary Feature and won three Primetime Emmy Awards, including Exceptional Merit in Documentary Filmmaking and Best Cinematography. The film premiered in the 2015 Sundance Film Festival's US Documentary Competition, where Heineman won Best Director and the Special Jury Prize for Cinematography. CARTEL LAND also received the Courage Under Fire Award, the DGA Award for Outstanding Achievement in Documentary and the George Polk Award in Journalism. The film was released theatrically nationwide by The Orchard and premiered on A&E.
Previously, he co-directed and produced the Emmy-nominated feature-length documentary ESCAPE FIRE: The Fight to Rescue American Healthcare; collaborated for two years on the Emmy-nominated HBO series, THE ALZHEIMER'S PROJECT; and also directed and produced OUR TIME, his first documentary about what it's like to be young in America.
Heineman, a 2005 graduate of Dartmouth College, is based in New York.