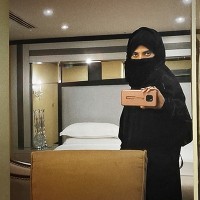 Realscreen » Archive » Nat Geo Documentary Films covers "Saudi Runaway" by Susanne Regina Meures
National Geographic Documentary Films has acquired worldwide rights to Susanne Regina Meures' second feature documentary Saudi fugue after its world premiere at the 2020 Sundance Film Festival.
The 88-minute film, which debuted in Sundance's World Documentary Competition, takes a behind-the-scenes look at Saudi Arabia's patriarchal culture by offering an unprecedented look at a young woman, Muna , and her attempts to escape the country before she was arranged to marry.
Communicating with filmmaker Meures for months before her escape, Muna uses her cell phone to secretly document her "claustrophobic existence" and flight to freedom.
"Muna is one of the strongest and bravest women I know," Meures said in a statement. "She shares her pain and gives us a glimpse into a hidden world. Although the Kingdom of Saudi Arabia is at the center of world affairs, there are very few authentic images of life. Muna's story is of great urgency and relevance and essentially encapsulates a human rights drama.
Meures is also the film's co-producer, along with Christian Frei of Christian Frei Film Productions.
The deal was brokered by Stefan Kloos for Rise and Shine World Sales and Jason Ishikawa for Cinetic on behalf of the filmmakers.