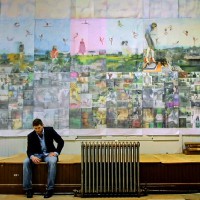 Realscreen »Archive» MTV Documentary Films recovers documentary by prison artist "Krimes"
MTV Documentary Films Acquires Global Rights To Feature Documentary Krimes, the new film by award-winning director Alysa Nahmias (Unfinished spaces, troubles).
The film tells the story of 26-year-old Jesse Krimes, who created concept art during his six-year stint in prison, such as a mural made of sheets, newspaper and hair gel. With the help of other artists, Krimes smuggles panels of his work one piece at a time to avoid getting caught with contraband. As such, he can only see his art in its entirety after it is released. The film traces the story of Krimes as his work captures the attention of the art community as the artist himself struggles to adjust to life on the outside.
Krimes had its world premiere at the Heartland International Film Festival, where MTV Documentary Films first saw it, and it screened at DOC NYC on November 14.
The film is produced by Nahmias' AJNA prodco, in association with Wavelength and Giving Voice Films. It was produced by Amanda Spain, Benjamin Murray and Nahimias. Executive producers are Jenifer Westphal, Joe Plummer, Patty Quillin, Hallee Adelman and Ivy Herman, with co-executive producers Nion McEvoy, Leslie Berriman, Ruth Ann Harnisch and Sheri Sobrato-Brisson.
The deal was negotiated by ICM Partners on behalf of the filmmakers and with Lance McPherson for MTV Documentary Films.
"I am honored that Jesse Krimes and the other brilliant artists in this film shared their story with me, and that Sheila Nevins found our film at the Heartland Film Festival, which tells us that she and the team at MTV Documentary Films aren't just looking to do what everyone else does, "Nahimas said in a statement." They're state of the art, focusing on art combined with important topics, and we're delighted they bring Krimes to audiences around the world.
Sheila Nevins, executive producer at MTV Documentary Films added: "Jailed for six years, Jesse Krimes created concept art in prison. The soul of this artist was born while he was imprisoned. What follows is a surprising and inspiring story of art and justice.