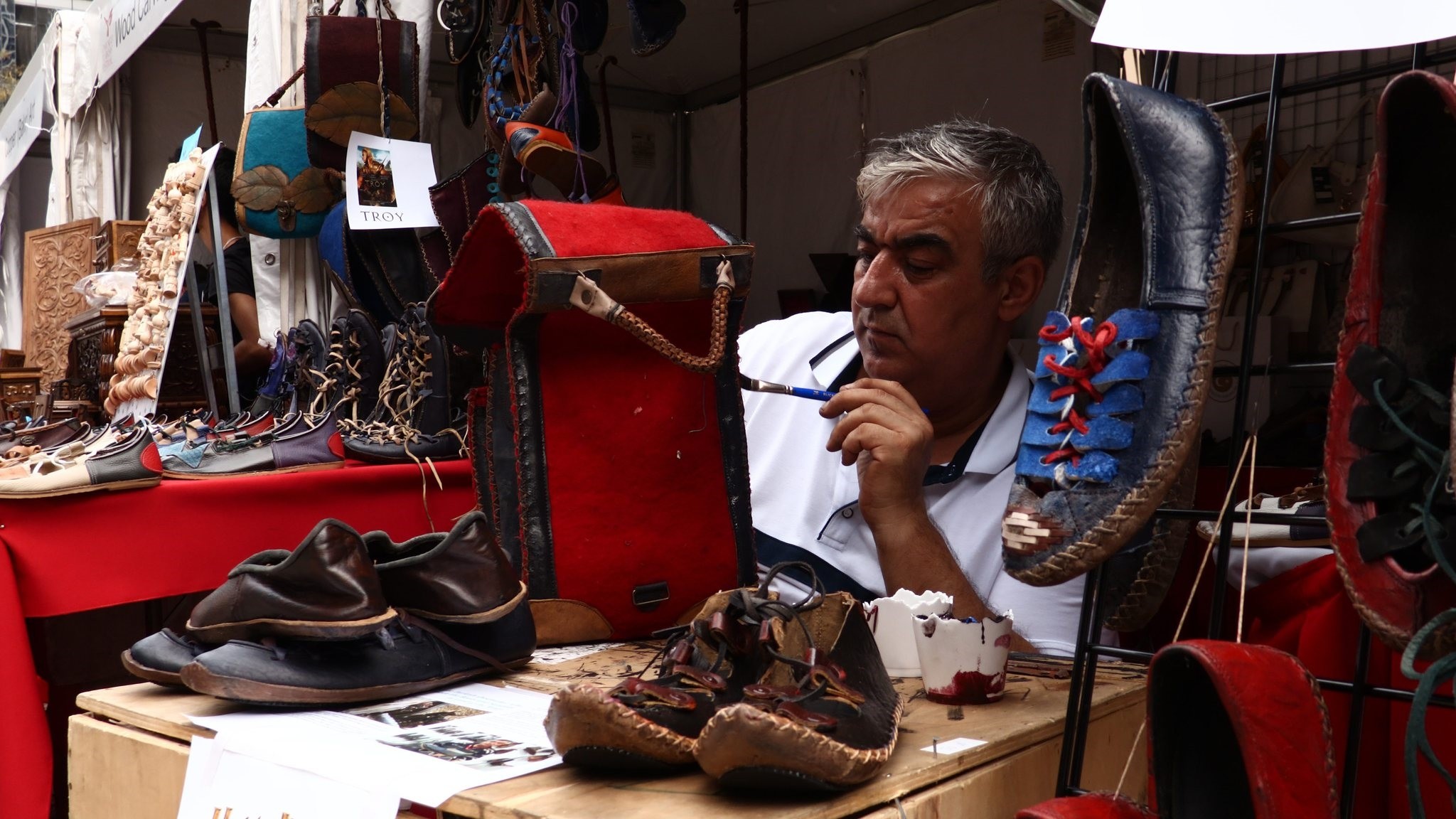 Ottoman 'çarık' for historical films
Hüseyin Kopar, a fourth-generation leather shoemaker from Kahramanmaraş, southeastern Turkey, continued his business making çarıks, hand-crafted Ottoman sandals, for historical films and TV series.
Speaking to Anadolu Agency (AA), Kopar said: "We have been working with leather for four generations. The Ottoman clothes and çarıks we make are used in local and foreign historical films. "For local films, we can make them in six months. but for European films it can take up to two years, "he added." It's an ongoing process and each episode needs different props. In addition, different regions have different styles. In foreign films, everything, including clothing, is usually made of leather. Therefore, they need more elaborate details. "
The demand for Turkish "çarık" in European countries is high, mainly due to the quality of leather and craftsmanship.
"The Çarıks produced in Turkey do not use glue or chemicals, so buyers are very happy," he said.
In England for a new project
Kopar said his studio received an overseas order for a new landmark film.
"We have a new project and on March 26 we will be going to England as a guest of a film company that has produced films like 'Avatar' and 'Troy'," he said.
"We will be making six models in 12 days. This is a historical film about a battle between England and Hungary. So we will be making shoes that were worn in that specific time. Of course, the shoes will also reflect the Ottoman style, "he said. added.
The Kopar workshop was one of a number of important projects in Turkey. She produced all leather accessories and costumes for the movie "Fetih 1453" (Conquest 1453).
"We also made all the costumes for 'Mahmut and Meryem', a joint production of the Turkish Ministry of Culture and Tourism and the Azerbaijani Ministry of Culture," Kopar said.
Strong European demand
Referring to the interest in the çarıks from the European market, Kopar said, "We made our first handicraft exports in 2011 because the çarıks we made for these historic films. The demand for Turkish çarıks in European countries is quite high, mainly due to the quality of our leather and our craftsmanship is not found in their country. There are only two sisters in Italy but their products are not very similar to ours. "
"They use a special chemical to make the shoe water resistant for up to 45 days. But, ours can be used for more than three years because we use organic leather. It is more resistant to salt water because we treat them with animal fat, not chemicals. We also use natural cotton yarn and beeswax. Therefore, they have become waterproof and durable. Our shoes also do not cause irritation nor itching, "he added.
Using clay as a foot Unique
The master shoemaker added that the resistance of the çarıks to cold was also one of the reasons why they were preferred.
"If you wear our shoes, your feet will not feel cold even at minus 30 degrees Celsius because we put clay between the base and the lining. The same material was used by the Huns in China, the Seljuks and the Ottomans. .your feet are warm in winter and cool in summer, "he said.