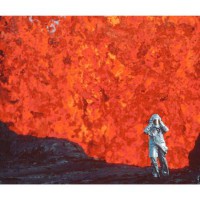 Nat Geo Documentary Films Acquires 'Fire of Love', 'The Territory'
National Geographic Documentary Films has acquired worldwide rights to a pair of Sundance Film Festival documentaries that recently held their world premieres.
First, Nat Geo redeemed itself fire of lovethe latest film from director Sara Dosa (The seer and the invisible), which premiered as the day one selection of the Sundance American Documentary Competition at this year's festival. The film is produced by Shane Boris and Ina Fichman, and produced by Greg Boustead and Jessica Harrop.
The doc captures the love affair between French scientists Katia and Maurice Krafft, who researched and captured spectacular images of volcanoes, and later died conducting this work.
National Geographic Documentary Films will be released fire of love in theaters later this year. The documentary is a Sandbox Films, Intuitive Pictures and Cottage M.
"We are absolutely honored to begin our journey with National Geographic Documentary Films," Dosa said in a press release. "They champion cinematic storytelling about the wonders and power of the natural world, so there really is no better choice for our ode to love and volcanoes."
National Geographic Documentary Films also acquired the rights to the documentary The territorywhich is screened in the World Cinema Documentary Competition at this year's Sundance Film Festival.
The territory covers the struggle of the indigenous Uru-eu-wau-wau people against the encroaching deforestation caused by illegal loggers and non-indigenous farmers in the Brazilian Amazon. The film includes unprecedented access covering the Uru-eu-wau-wau community and attempts by loggers and farmers to colonize the protected rainforest.
The film is director Alex Pritz's feature debut and was co-produced by the Uru-eu-wau-wau community with activist Txai Surui on board as executive producer. The film is also produced by Sigrid Dyekjaer, Darren Aronofsky's Protozoa Pictures and Passion Pictures, as well as Will N. Miller, Lizzie Gillett and Gabriel Uchida. It was produced by Documist, Associação Jupaú do Povo Uru-eu-wau-wau, Real Lava, Passion Pictures and Protozoa Pictures in association with Time Studios and XTR with support from Luminate and Doc Society.
"We are honored to bring the story of the Uru-eu-wau-wau people to the world and help deepen the conversation and raise awareness about the endangered Amazon rainforest and its indigenous peoples," said Carolyn Bernstein, executive vice president of Global scripted. content and documentary films for National Geographic, in a statement. "We are also delighted to be working with our longtime friend Sigrid Dyekjaer whose talent for guiding stories of impact and advocacy is unparalleled and our frequent collaborator Darren Aronofsky, a visionary storyteller with an unrivaled eye for breakthrough talent. ."
The team behind The territory will also launch an impact campaign to elevate indigenous voices and fight deforestation through nature- and community-based solutions.
National Geographic Documentary Films has previously released acclaimed documentary works such as Free Solo, The caveand more recently in 2021, Become Cousteau, The first wave and The rescue.