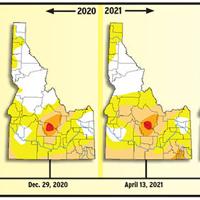 Drought tightens grip on Blaine and Custer counties | Environment
The National Oceanic and Atmospheric Administration's US Drought Monitor upgraded Blaine County's drought status from "extreme" to "exceptional" last week, dropping most of the county to the second-worst drought classification NOAA at its worst.
In May, most of Blaine County was experiencing "severe" drought and only small parts of northeast Blaine and southern Custer counties, including Trail Creek Summit and the Big Lost drainage basin, were listed. as "extreme" drought.
By June 10, the day Magic Dam was closed, the drought bullseye had intensified from "extreme" to "exceptional," changing color accordingly from red to crimson.
After the irrigation season ended early, Agriculture Secretary Tom Vilsack officially designated Blaine County as a "primary natural disaster area" along with Lincoln County, including the latter due to its dependence on the flows of the Big Wood River.
"[Vilsack's] the natural disaster designation allows the [Farm Service Agency] to provide much-needed emergency credit to growers recovering from natural disasters," the USDA said late last month. "Emergency loans can be used to meet a variety of recovery needs, including replacing essentials such as equipment or livestock, reorganizing a farm operation, or refinancing certain debts."
By July 13, the extent of the drought in central Idaho had expanded significantly, according to NOAA data. The "exceptional" area had extended north into Custer County, east into Butte County, south throughout the Wood River Valley, and west into Camas County. The underlying "extreme" drought zone has also expanded to cover the northern tip of Blaine County.
On July 20, the Blaine County "exceptional" drought zone extended from the Craters of the Moon National Monument to Easley Peak and included all towns in the Wood River Valley.
Local impacts from this summer's drought have already included widespread crop failures, severe water shortages, low river flows, considerable fire risk and wildlife seeking shelter in greener residential areas.
"Weeks of relentless triple-digit heat in southern Idaho have worsened the drought situation, causing higher water evaporation and increased demand for meager water supplies," Gov. Brad Little said on Monday. July 9th.
Since the beginning of this month, the Big Wood River in Ketchum has consecutively reached its lowest flows on record for each date, according to data from the US Geological Survey. In June, the river reached its lowest flow on record for 27 out of 30 days.
Big Wood River flows recorded at Ketchum and Hailey this month and last month have highlighted the worsening drought in the region. During the first weekend of June, the Big Wood in Ketchum reached 43% of its normal volumetric flow, at 276 cubic feet per second, and the Big Wood in Hailey reached 55%, at 898 cubic feet per second.
Over the July 4 holiday weekend, however, the USGS Ketchum Gauge recorded an average flow of 66 cubic feet per second, less than a third of the flow typically recorded on those dates. That same weekend, the Big Wood in Hailey was flowing at 146 cubic feet per second, just 22% of its normal flow.
Rainfall also reached a record high since June 15. On Tuesday, the county's six SNOTEL stations — at Chocolate Gulch, Dollarhide Summit, Galena Summit, Deadend Canyon, Enid Gulch and Park Creek Campground — recorded 15.7 inches of accumulated precipitation. for this hydrological year, according to the Natural Resources Conservation Service. The previous record minimum accumulated precipitation for that day was 16.9 inches, recorded in 1994.
In typical wet years, the Big Wood Basin will have accumulated about 27 inches of precipitation by July 20.
F&G calls fishing closure 'biologically unnecessary'
Trout in the Wood River Valley are facing grim conditions this summer due to drought and recent heat waves, according to a Friday report from Joe Kozfkay, state director of fisheries for the Department of Fisheries. and game from Idaho. But, he said, fishing is unlikely to contribute much to that mortality.
"While some heat-stressed fish will die from angling-related mortality, basing fishing closures on reduced risk to a relatively small portion of the local trout population is unlikely to change short-term or long-term aggregate numbers," Kozfkay said. "Higher than average water temperatures can increase natural mortality rates for trout, as they are forced to migrate longer distances to seek cooler waters or succumb to stressful environmental conditions."
Local fishing guides and trout advocates are urging anglers to keep a close eye on the water temperature on the river and call it a day when it gets too hot.
"Plan to fish early and plan to catch afternoon and evening once the water temperature hits 67 degrees," Bret Bishop, a guide with Ketchum's Silver Creek Outfitters, wrote in his weekly fishing report. . "As always, land the fish quickly and keep them in the water while releasing them."
On Thursday, July 22, Fish and Game will host a town hall meeting in Hailey on managing trout during a drought, explaining why the department will not be implementing fishing closures this summer. The public meeting will take place at 7 p.m. at the Hailey Community Campus Performing Arts Theater.