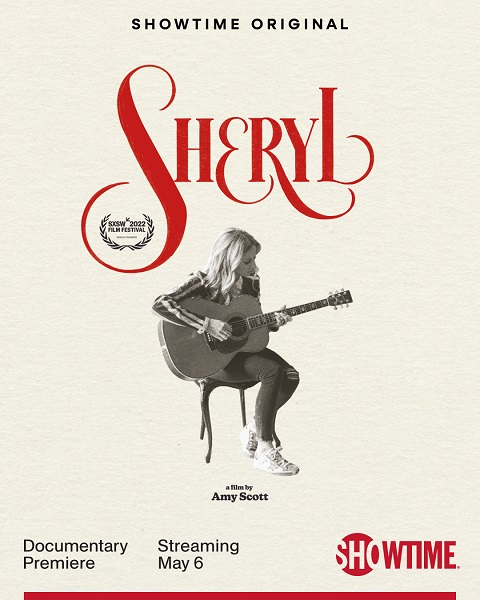 Breaking News – Showtime Documentary Films Announces "Sheryl"
SHOWTIME(R) DOCUMENTARY FILMS ANNOUNCES "SHERYL"
The feature-length documentary from director Amy Scott will premiere at SXSW tonight ahead of the network premiere on Friday, May 6 at 9 p.m. ET/PT
Trailer and key art released
LOS ANGELES – March 11, 2022 – SHOWTIME Documentary Films announced today that SHERYL, an intimate story of song and sacrifice about musical icon Sheryl Crow, will have its SHOWTIME premiere Friday, May 6 at 9 p.m. ET/PT. Director Amy Scott navigates Crow's seminal but hard-fought musical career, battling sexism, depression, perfectionism, cancer and the price of fame – before harnessing the power of her gift. SHERYL will have its world premiere at SXSW tonight (Friday, March 11). The announcement was made by Vinnie Malhotra, Executive Vice President, Nonfiction Programming, Showtime Networks Inc. To watch and share the trailer, visit:
SHERYL is told through current interviews with Crow, behind-the-scenes truth on the road and in her studio, never-before-seen archival footage spanning 20 years of touring, and interviews with close allies Keith Richards, Laura Dern, Joe Walsh, Emmylou Harris, Brandi Carlile and others. Crow's early gift for music and her dedication to songwriting set her on an unabashed path to perfection – which ultimately became both a blessing and a curse to overcome.
SHERYL is produced by Brian Morrow and Jonathan Lynch for Shark Pig, Van Toffler for Gunpowder & Sky and Scooter Weintraub. Executive producers are Floris Bauer, Barry Barclay, David Gale and Vinnie Malhotra.
Alongside the premiere of the documentary, UMe/Big Machine Records will release a new album titled Sheryl: Music From The Feature Documentary digitally and on 2CD on May 6th. The release features his greatest hits including "If It Makes You Happy", "Soak Up The Sun", "All I Wanna Do", "My Favorite Mistake", "Redemption Day" and many more, as well as deep tracks and three newly recorded songs. To pre-order Sheryl: Music From The Feature Documentary, click HERE.
Showtime Networks Inc. (SNI), a wholly-owned subsidiary of Paramount, owns and operates the premium service SHOWTIME(R), which offers critically acclaimed original series, provocative documentaries, box office hits, comedy and music specials and hard-hitting movies. sports. SHOWTIME is available as a standalone streaming service on all major streaming devices and Showtime.com, as well as via cable, DBS, telco and streaming video providers. SNI also operates THE MOVIE CHANNEL(TM) and FLIX(R) premium services, as well as on-demand versions of all three brands. SNI markets and distributes sports and entertainment events to be shown to subscribers on a pay-per-view basis through SHOWTIME PPV(R). For more information, visit www.SHO.com.