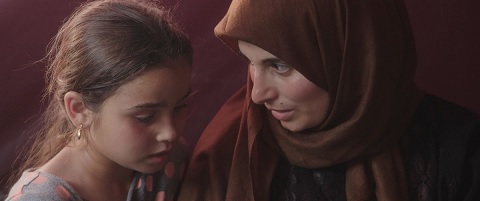 Breaking News – HBO Documentary Films Acquires Global and Streaming Rights to Oscar-winning Megan Mylan (R) 'Simple as Water', to Debut This Fall
HBO Documentary Films acquires worldwide and streaming rights to SIMPLE AS WATER, from Academy Award-winning Megan Mylan (R), to debut this fall
· HBO Documentary Films has acquired the worldwide and streaming rights to the powerful documentary SIMPLE AS WATER by Oscar-winning filmmaker Megan Mylan ("Lost Boys of Sudan", "Smile Pinki"). The critically acclaimed film celebrated its world premiere on the closing night of the 2021 Tribeca Film Festival. The documentary will have limited theatrical airing before making its HBO debut later this year and will be available to stream on HBO Max.
· Synopsis: Epic in scope but intimate and elegant in appearance, SIMPLE LIKE WATER is a meditation on the elementary bonds between parents and children. A masterful look at the impact of war, separation and displacement, the film takes audiences on Syrian families' quests for normality and through the whirlwind of obstacles – to rebuild life. Shot for five years in five countries including Turkey, Greece, Germany, Syria and the United States, Mylan's sensitive camera reifies the universal importance of the family.
· Quote from director Megan Mylan: "I see SIMPLE AS WATER as a family love story celebrating the basic bond between parent and child. How do you preserve your child's right to joy and to slowly come out of it? innocence when the very foundations of having your family safe and together are ripped off? I am grateful for the trust and collaboration of the families in the film and to our wonderfully diverse team from around the world who came together to create these Family portraits. We're thrilled that HBO is bringing this story to the world with their passion and vibrancy. I can't imagine a better home. "
· Director Megan Mylan achieves remarkable intimacy and complexity in her films. SIMPLE AS WATER is the result of a meaningful collaboration with carefully selected teams of small teams from all over the world, many Syrian refugees themselves. His stunning images were created with filmmakers from three continents, three different racial and cultural backgrounds, and whose lives spanned three different decades – Lars Skree ("The Act of Killing", "The Look of Silence") , veteran DP Michael Chin ("Eyes on the Prize") and "Rafia Salameh" working inside Syria – a young woman who must remain anonymous for her safety and is credited with a pseudonym.
Subjects of films:
Yasmin is a young mother of four young children living in a tent in the port of Athens, Greece. She flounders through the Kafkaesque bureaucracies in her efforts to find the father of the children, who crosses closed borders in Germany. She does her best to create safe and loving routines that give children a glimpse of their pre-war lives, and makes a point of talking about a bright future ahead.
On the Syrian border with Turkey, Samra, a young widow is barely able to provide for the needs of her five young sons and is grappling with the decision to leave them in an orphanage so that they can receive an education and have a better life.
· Omar, 22, took on the role of parent to his younger brother in Pennsylvania. He helps her with the challenges of American high school while they wait to see if they will be granted asylum in the United States or if they will be returned to Syria.
· While half of all Syrians have fled the country, Diaa is among the remaining half. She tirelessly searches for her adult son who was forcibly "disappeared" – while enduring the pain of not knowing his fate.
· In Butzbach, Germany, Safwan and her roommate Abdullah, like many Syrian fathers in Butzbach, live together in temporary accommodation. They take on menial jobs and bemoan missing birthdays and lost children's teeth.
· Credits: Principe Productions present in association with InMaat Productions and JustFilms / Ford Foundation SIMPLE AS WATER. Directed by Megan Mylan; produced by Robin Hessman, Megan Mylan; cinematography by Lars Skree, Rafia Salameh, Michael Chin; edited by Purcell Carson, Megan Mylan; music composed by Hanan Townshend; co-producers, Hazem Obid, Alaa Hassan, Yara Hassan.